Project # MA-18-08 | updated July 28, 2022
Design
Project name: Hwy 930 @ Henry Rd Roundabout
Design firm: Shread-Kurykendall
Pct complete design: 100%
Row parcels needed: 6
Row parcels acquired: 6

Construction
Contractor name: McGee Excavation & Development
Contract duration: 120
Construction status: Completed

Costs
Design cost: $416,183.30
Row cost: $87,065.00
Enviro mitigation cost: $0
Construction cost estimate: $1,552,792.71
Construction bid: $1,342,000.00
Inspections cost: $0.00
Material testing cost: $25,288.89

Funding
Funding federal:
Funding state:
Funding local: $2,081,329.90
Funding traffic impact fees:

This project has replaced a 4-way stop-controlled intersection at Hwy 930 and Henry Road with a roundabout to improve traffic flow through the intersection.
The roundabout will alleviate traffic congestion during school drop off and pick up hours at adjacent Prairieville Middle School.
Complete!
Parish President Clint Cointment, Sherrif Bobby Webre, Councilman Aaron Lawler, School Board Member John DeFrances and other dignitaries gather for a celebratory ribbon cutting the morning or July 28, 2022. Safety and traffic flow will be improved at this intersection next to Prairieville Middle School.
Bird's Eye View
This drone video from Ascension Parish Government provides a time lapse of roundabout construction and shows the project is completed.
Location
The location of this project is provided on the map below.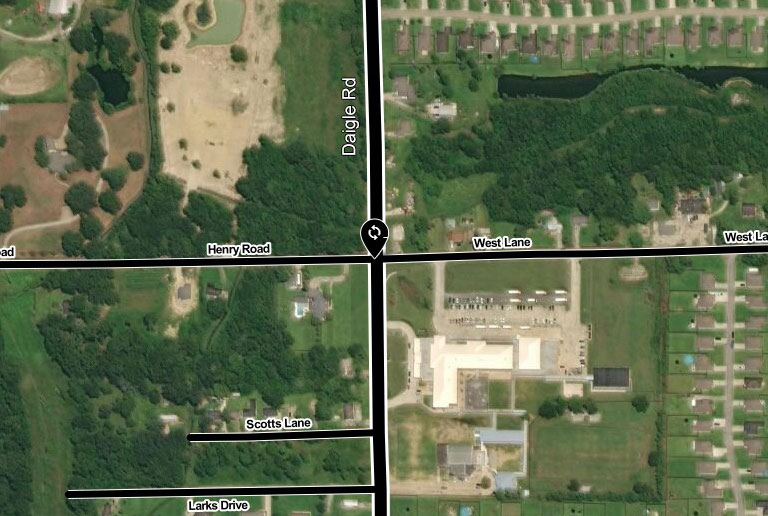 Gallery