Project # MA-17-04 | updated September 6, 2019
This project is part of the overall Roddy Road (932) corridor safety widening improvements. Joe Sevario Rd. is the extension of Roddy Road north of Germany Road up to SR 933.
Enhancements will occur in two places: at the intersections of Norwood Rd. and at the Merritt Evans / Devall Road intersection with 932. These are spot intersection safety improvements which will increase the turnout radii and the sight distances for oncoming traffic from a stop condition. The location of these project improvements are shown below.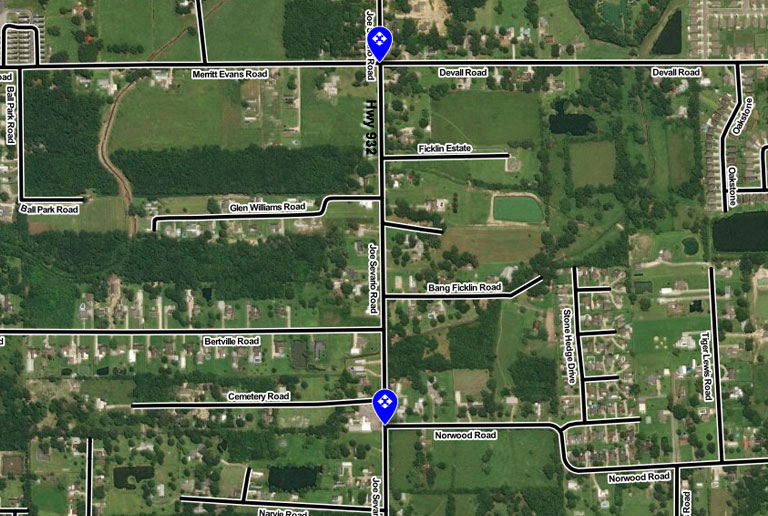 Schedule
Current Phase: Final Design
Design Start Date: October 2017, Rescoped spring 2018
Construction Start Date: To be Determined
Status
| Task | Required? | | Complete |
| --- | --- | --- | --- |
| a. Land / Topo Survey | yes | | 100% |
| b. Subsurface Utility Eng. | yes | | 100% |
| c. Geotechnical Testing | yes | | 100% |
| d. Preliminary Design | yes | | 100% |
| e. Right-of-Way Acquisition (@ Merritt Evans) | yes | | 0 of 4 |
| Right-of-Way Acquisition (@ Norwood) | yes | | 0 of 2 |
| f. Final Design | yes | | 100% |
| g. Utility Relocations | yes | | 0 of 4 |
| h. Construction | yes | | 0% |
Team
Contractor: To be Determined
Design Consultant: SJB Group
Budget
Redesign Contract Amount: Merritt Evans Intersection $32,810
Redesign Contract Amount: Norwood Intersection $32,810
Construction Cost Estimate: To be Determined
Gallery