Project # MA-17-07 | updated September 6, 2019
This project is a study of traffic and intersections at several locations on LA 73 (Old Jefferson Hwy.) and LA 74. Parish staff analyzed these intersections seeking the most appropriate intersection solutions - such as turn lanes, roundabouts or signalization.
The completed analysis identified the need for turn lanes along Jefferson Hwy. at Oakland Drive, Brown and Henry Roads. Other locations including LA 73 at LA 427, and LA 74 at Bluff Rd. (LA 928) did not warrant roundabouts, and the State has made recent improvements to the LA 74 at Bluff Rd. intersection. However, the first three did advance to become implementation projects within the Move Ascension initiative. The image below shows the locations of the intersections receiving improvements as a result of this study.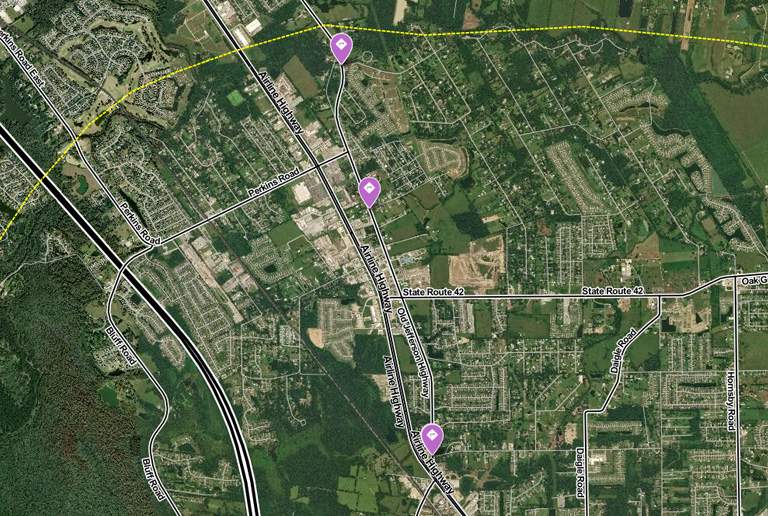 Schedule
Current Phase: Completed Study
Study Start Date:
Status
| Task | Required? | | Complete |
| --- | --- | --- | --- |
| a. Land / Topo Survey | no | | n/a |
| b. Subsurface Utility Eng. | no | | n/a |
| c. Geotechnical Testing | no | | n/a |
| d. Preliminary Design | no | | n/a |
| e. Right-of-Way Acquisition | no | | none |
| f. Final Design | no | | n/a |
| g. Utility Relocations | no | | none |
| h. Construction | no | | n/a |
Team
Contractor: n/a
Design Consultant: Neel Schaffer
Budget
Study Contract Amount: $117,261
Gallery