Project # MA-17-01 | updated September 6, 2019
This 1-1⁄2 mile segment of the Roddy Road corridor from LA 935 (Churchpoint Rd.) to LA 621 (Cante Rd.) is to be widened to improve safety. The project includes a new bridge over Black Bayou.
UPDATE: Intersection improvements at LA 934 and LA 621 have been removed from the scope of this project, as signalization of those intersections are not warranted as per DOTD. A roundabout at LA 621 is slated for design during the first quarter of 2020.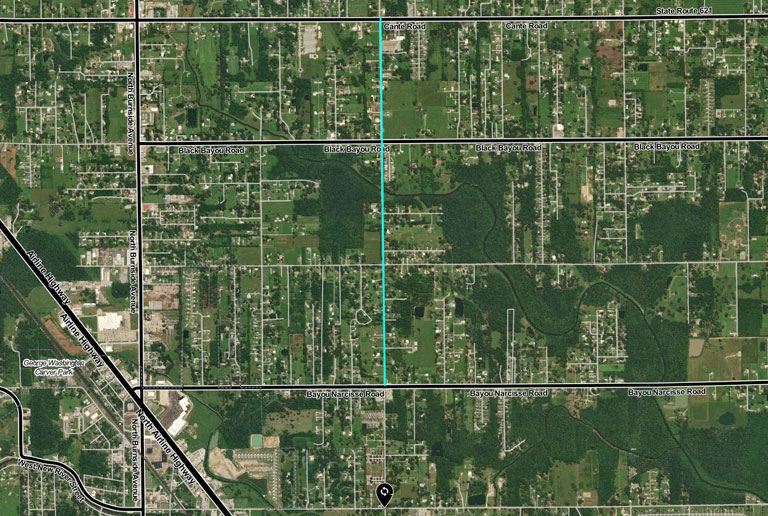 Schedule
Current Phase: Pre-Construction
Design Start Date: September 2017
Construction Start Date: To be Determined
Status
| Task | Required? | | Complete |
| --- | --- | --- | --- |
| a. Land / Topo Survey | yes | | 100% |
| b. Subsurface Utility Eng. | yes | | 100% |
| c. Geotechnical Testing | yes | | 100% |
| d. Preliminary Design | yes | | 100% |
| e. Right-of-Way Acquisition | yes | | 65 of 67 |
| f. Final Design | yes | | 100% |
| g. Utility Relocations | yes | | 0 of 9 |
| h. Construction | yes | | 0% |
Team
Contractor: To be Determined
Design Consultant: T Baker Smith
Budget
Redesign Contract Amount: $601,855
Construction Cost Estimate: To be Determined
Gallery