Project # MA-17-02 | updated September 6, 2019
This 1.3 mile section of Roddy Rd. from US 61 (Airline Hwy.) to LA 935 will be widened to improve safety. The project includes new bridges over the New River Canal and Bayou Narcisse and intersection improvements.
These intersection improvements include Left turn lanes at LA 429 east, west, and northbound; and Right turn lanes at LA 429 on north and southbound approaches. Intersection improvements at LA 935 have been removed from the scope of the project as they are not warranted at this time, per DOTD.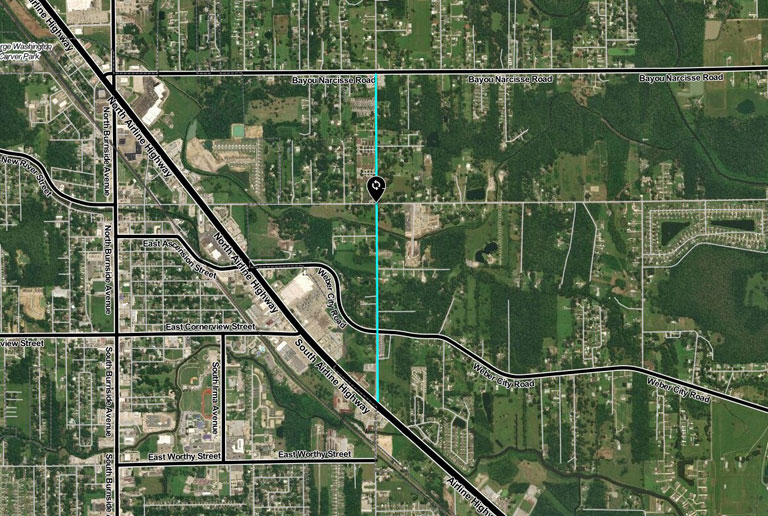 Schedule
Current Phase: Pre-Construction
Design Start Date: September 2017
Construction Start Date: To be Determined
Status
| Task | Required? | | Complete |
| --- | --- | --- | --- |
| a. Land / Topo Survey | yes | | 100% |
| b. Subsurface Utility Eng. | yes | | 100% |
| c. Geotechnical Testing | yes | | 100% |
| d. Preliminary Design | yes | | 100% |
| e. Right-of-Way Acquisition | yes | | 17 of 58 |
| f. Final Design | yes | | 95% |
| g. Utility Relocations | yes | | 0 of 8 |
| h. Construction | yes | | 0% |
Team
Contractor: To be Determined
Design Consultant: Shread-Kuyrkendall and Associates, Inc. (SKA)
Budget
Redesign Contract Amount: $904,286
Construction Cost Estimate: To be Determined
Gallery