April 1, 2019
In 2018-19 Ascension Parish Government worked with key stakeholders, parish residents, and with transportation planners to develop a master plan for transportation infrastructure improvements in Ascension Parish. Work was accomplished in three phases by first identifying transportation needs, secondly developing solutions to address those needs, and lastly to refine and prioritize these solutions in a plan.
---
Process
Following a series of interviews with key stakeholders representing public and private interests in the parish, the transportation planning team conducted two rounds of public meetings. The first open house event was in September of 2018 at the Lamar Dixon Expo Center's gymnasium. Draft versions of exhibits were presented and comments and suggestions from attendees was recorded and used in a revision cycle. Parish officials worked over the plans for several months, collecting additional information and seeking clarifications from elected officials and stakeholders. In April of 2019 a pair of meetings were held to present revised plans to residents and again ask for input. These meetings took place at the Donaldsonville Courthouse and the Ascension Parish Government Complex.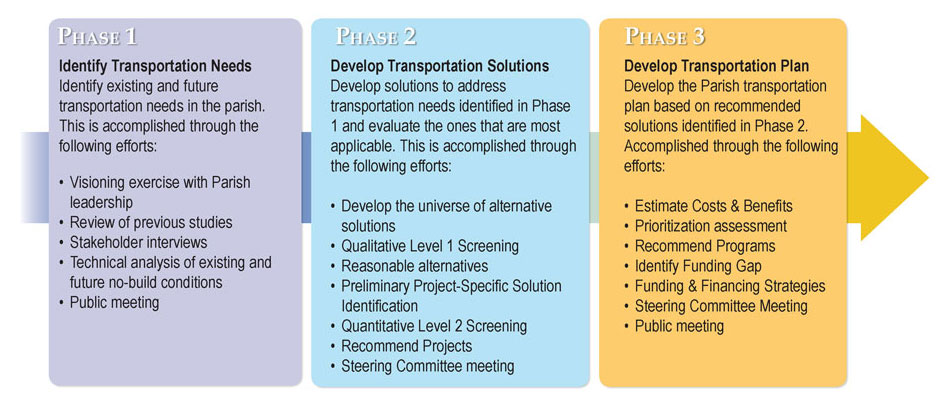 Purpose
A transportation master plan is a formal instrument used to inform future decisions by government officials. These decisions may affect land use, infrastructure improvements, and allocation of limited resources - namely money. Having an official, adopted plan positions the Parish to receive additional funding from state and federal sources because it demonstrates the Parish's intent and commitment. The local transportation master plan also links goals of the Parish with those of regional and national transportation agencies. Similarly, it provides municipalities within the parish with a predictable plan upon which they also may make complimentary roadway improvements. By incorporating a robust public engagement effort in the planning process, the parish transportation master plan cultivates public trust and transparency.
Status
The Ascension Parish Transportation Master Plan document is finalized and awaiting Parish approval and adoption by the Ascension Parish Council.
---
If you haven't found the answer for your question please feel free to contact us. Our staff will be happy to help you.