April 15, 2021
Click to complete an online survey by our regional MPO seeking input on the long-range transportation master plan. Ensure Ascension Parish's needs are represented in the plan. Hurry! This survey closes Monday, April 19, 2021.
---
What is CRPC?
The Capital Region Planning Commission (CRPC) is a Council of Governments serving eleven parishes: Ascension, East Baton Rouge, East Feliciana, Iberville, Livingston, Pointe Coupee, St. Helena, Tangipahoa, Washington, West Baton Rouge and West Feliciana. Through planning and communication, CRPC coordinates and collaboratively addresses regional issues related to transportation, land use, economic development, and the environment. CRPC serves as our regional Metropolitan Planning Organization (MPO).
MOVE2046
One of the tasks of the Capital Region Planning Commission is to develop and periodically update a regional Metropolitan Transportation Plan (MTP). MOVE2046 represents the current update cycle for this plan, and it will establish a shared vision for the future of transportation in the region. It will identify goals, strategies and projects which will help to achieve this shared vision over the upcoming 25 years.
Your Input is Requested
MOVE2046 Transportation Survey
Click the above link to participate in CRPC's online survey seeking public input to inform the recommendations which will be in the metropolitan transportation plan. Below is a representation of what you will see when beginning the online survey.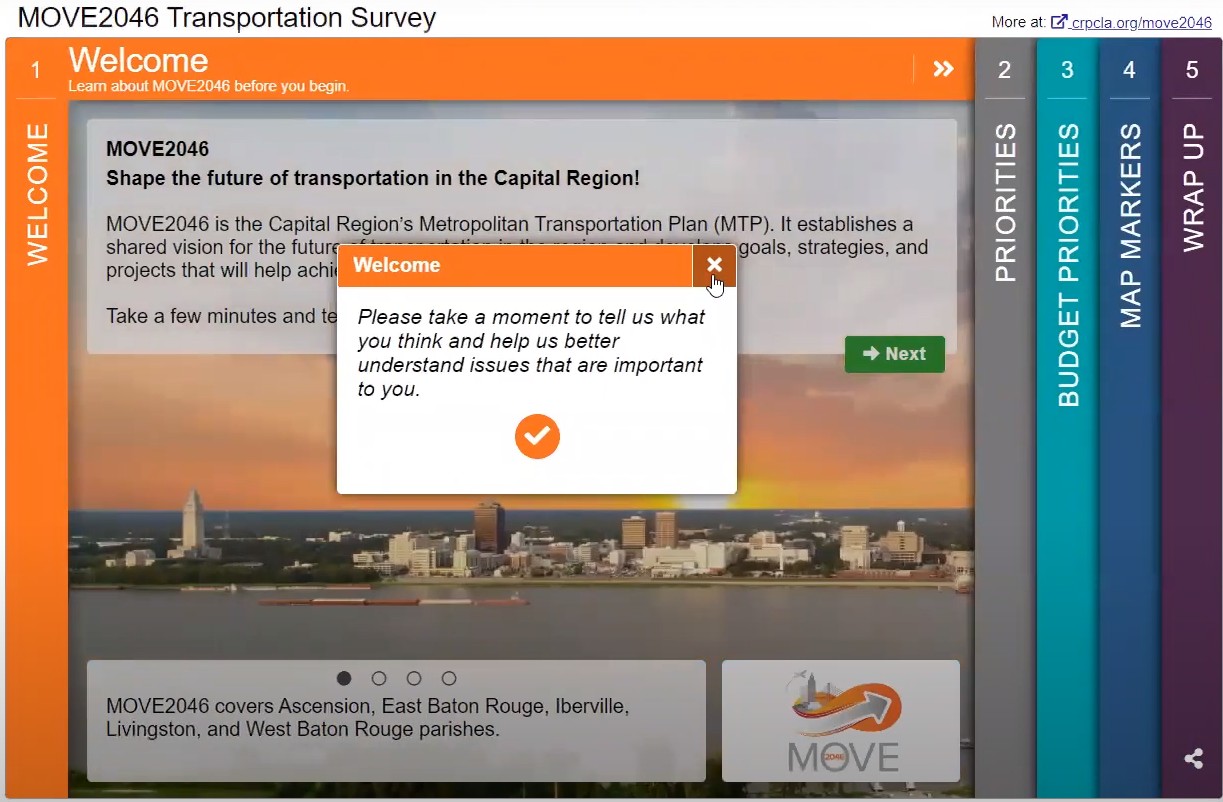 ---
This survey closes Monday, April 19, 2021.